June 06, 2021
wilting flowers
may 27, 2021. Jamaica, NY, on the train to Southampton.
in mid march 2020 i had to travel urgently to Madrid for family reasons. what seemed to be a visit of a few days turned into a five and a half month stay due to the covid-19 confinement. with just my camera, phone and an 800-page book, and with my stvdio almost 6,000 kilometers away, i suddenly found myself empty-handed, with nothing to do, or worse, not knowing what to do. this situation was new to me, i had none of the things that accompany me every day at home or at the stvdio. we were all living in a tunnel of uncertainty and fear, with no end in sight.
early one morning on a quick and brief outing to buy food i discovered a small store, a tobacconist where they also had stationery. there i bought a sketchbook. now i know that it has changed my life. in it, with a pencil my daughter Lola gave me and with time in my hands, i started to draw like i had never done before.
and what did i draw? i started with the memory of the flowers i had been painting in the stvdio during the previous year, so the subject was not new, just a continuation. those ones in the stvdio were black or grey or red flower silhouettes that blended with the background, painted with oil and thick flat brushes (you can see some on this website). they were flowers painted from memory, without a model, as i have done all my life. a figment of my imagination. sometimes i make sketches, but most of the time, i skip that step and paint directly. and that is how i still do, except with this new series of wilting flowers.
Lola and Philip like to have flowers at home, and the ones they had at the time dried up after a few days of confinement. only after pacing day after day around that small, cozy apartment in San Eugenio street i came to be aware of their beauty. they were there, right in front of me, so i put my memories aside and started drawing them, realizing that the situation we were living made them even more beautiful.
weeks later, when we were allowed to go out for walks, i discovered the gardens of San Francisco, where the many dahlias that used to be grown had been replaced by roses. these were beginning to wilt and due to the pandemic the garden was somewhat untended to, so the charm of the place was fascinating, just what i was looking for. i contemplated the roses, and photographed them.
in those same days, the life of a loved one was languishing and so were the geraniums on her terrace. i drew one of them. without realizing, something was growing inside me. at the end of august when we finally returned to New York, back at the stvdio, i saw it clearly. i had to transfer those drawings from the Madrid sketchbook to large format. and that's where i am now, immersed in the "Wilting Flowers" series. also, i finally had a reason to use a ream of papers that belonged to James Rosenquist and that his daughter Lily had very kindly given to me months before.
with a patience i never dreamed i could have, i draw these wilting flowers every day while continuing with my other paintings. in the pictures you have a glimpse of the process: painstakingly, with a style very unusual for me, stroke by stroke, line by line, each flower comes to life over the course of two or three weeks, depending on its complexity. Using a sanguine color conté pencil, which I sharpen every three lines to outline each petal vein with great detail and being extremely careful not to smudge the drawing, the flower emerges on the paper with all its voluptuousness. they already form a series of fifteen, and if the tendinitis that is beginning to afflict me in my elbow allows it, they will become an important part of my work.
(see pictures below)
flores marchitas
27 mayo 2021. Jamaica, NY, en el tren hacia Southampton.
a mediados de marzo del año 2020 tuve que viajar urgentemente a Madrid por motivos familiares. lo que parecía iba ser una visita de pocos días se convirtió debido al confinamiento por el coronavirus en una estancia de cinco meses y medio. sin nada conmigo excepto mi cámara, el teléfono y un libro de 800 páginas, y con mi stvdio a casi 6.000 kilómetros de distancia, me encontré de pronto con las manos vacías, sin nada que hacer, o peor aún, sin saber que hacer. viví una situación nueva para mí, sin ninguna de las cosas que me rodean a diario en casa o en el stvdio. vivíamos todos en un túnel de incertidumbre y temor, sin vislumbrar el final.
una mañana temprano en una rápida y breve salida a la calle para comprar alimentos vi que en una pequeña tienda, medio estanco medio papelería, vendían cuadernos. compré uno. ahora sé que ese cuaderno me ha cambiado la vida. gracias a él, a un lápiz que me dio mi hija Lola y a todo el tiempo que tenía, empecé a dibujar como nunca antes lo había hecho.
¿qué dibujé en el cuaderno? al principio recuerdos de las flores que había estado pintado en el stvdio durante todo el año anterior, así que el tema no era nuevo sino una continuación. las del stvdio eran flores negras o grises o rojas que con su silueta se confundían con el fondo, pintadas con óleo y brochas (podéis ver algunas aquí en esta pagina web). flores pintadas de memoria, sin modelo, como he hecho durante toda mi vida. cierro los ojos e imagino, y entonces, a veces hago bocetos y otras, las más, pinto el cuadro directamente. y es lo que sigo haciendo ahora, excepto con esta serie nueva de flores marchitas o wilting flowers.
a Lola y Philip les gusta tener flores en casa, y las que tenían por entonces se secaron a los pocos días del confinamiento. tuve que dar muchas vueltas por aquel pequeño y acogedor apartamento de la calle de San Eugenio hasta darme cuenta de su belleza. estaban ahí, delante mío, así que dejé de pintar de recuerdos y empecé a dibujarlas, dándome cuenta de que eran más bellas todavía por la situación en que vivíamos.
semanas más tarde, cuando los paseos escalonados fueron permitidos, descubrí los jardínes de San Francisco, la antigua dalieda, donde ya no crecen dalias sino rosas. estas estaban empezando a marchitarse y, junto al abandono debido a la pandemia que sufría el jardín, el encanto del lugar era fascinante, justo lo que estaba buscando. contemplé las rosas, y las fotografié.
por esos mismos días, la vida de una persona querida languidecía y los geranios de su terraza, también. dibujé uno de ellos. sin darme cuenta algo germinaba dentro de mí. a finales de agosto cuando al fin regresamos a Nueva York, de vuelta al stvdio lo vi claramente. tenía que trasladar aquellas dibujos del cuaderno de Madrid a gran formato. y en eso estoy, inmerso en la serie "Wilting Flowers". además, por fin pude encontrar una razón para utilizar una resma de papeles de James Rosenquist que su hija Lily, con todo cariño me había regalado meses antes.
con una paciencia que jamás soñé podría tener, dibujo a diario estas flores marchitas a la vez que sigo con mis otras pinturas. en las fotografías podéis ver un poco el proceso: con una paciencia infinita y un estilo muy poco habitual en mí, trazo a trazo, línea por línea, cada flor va cobrando vida a lo largo de dos o tres semanas, dependiendo de su complejidad. usando un lápiz conté color sanguina al que saco punta cada tres líneas para lograr delinear con precisión cada vena de los pétalos, y con un cuidado extremo para no emborronar el dibujo, la flor emerge en el papel con toda su voluptuosidad. forman ya una serie de quince, y si la tendinitis que me empiezo a tener en el brazo lo permite, se convertirán en una parte importante de mi obra.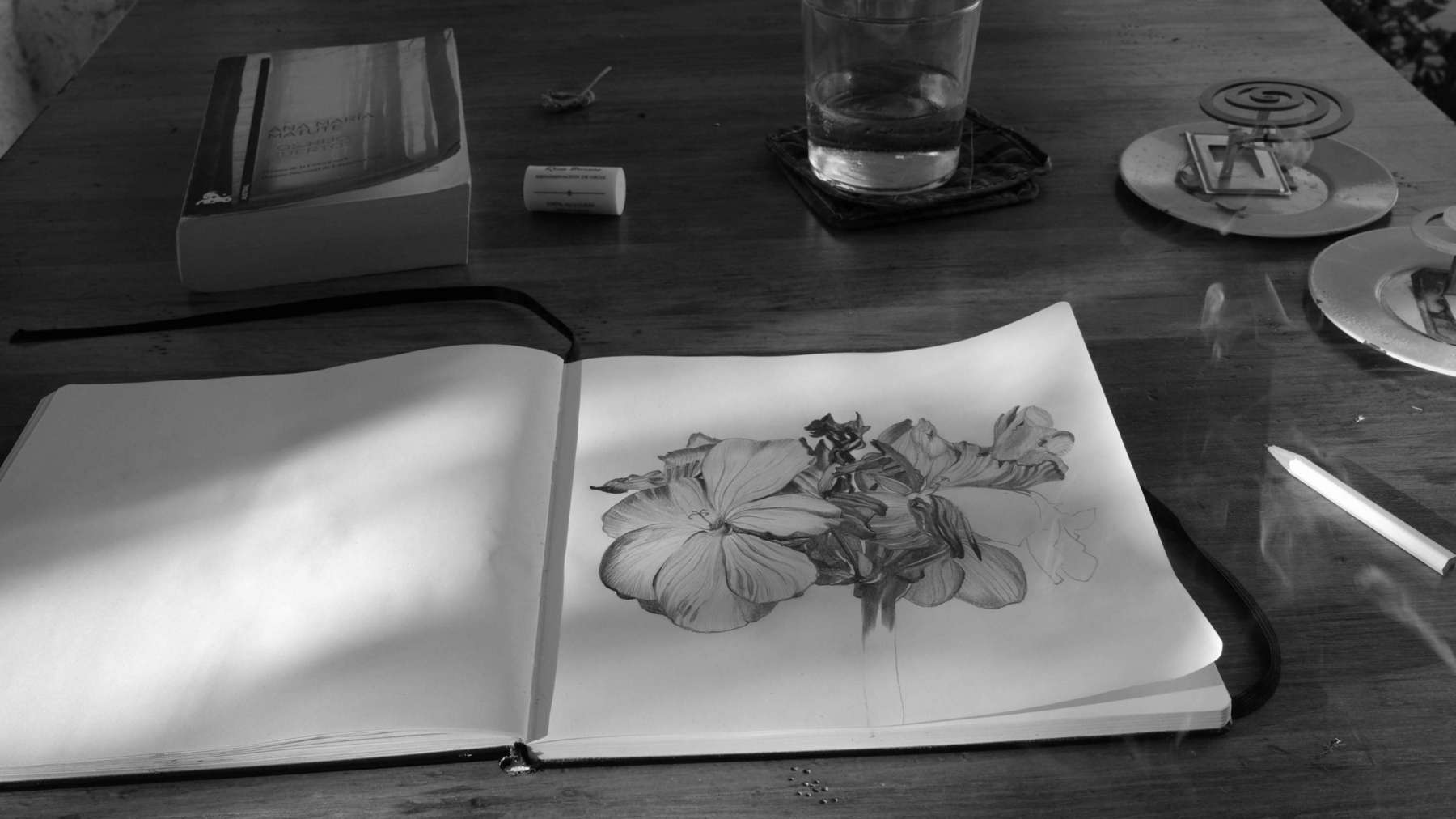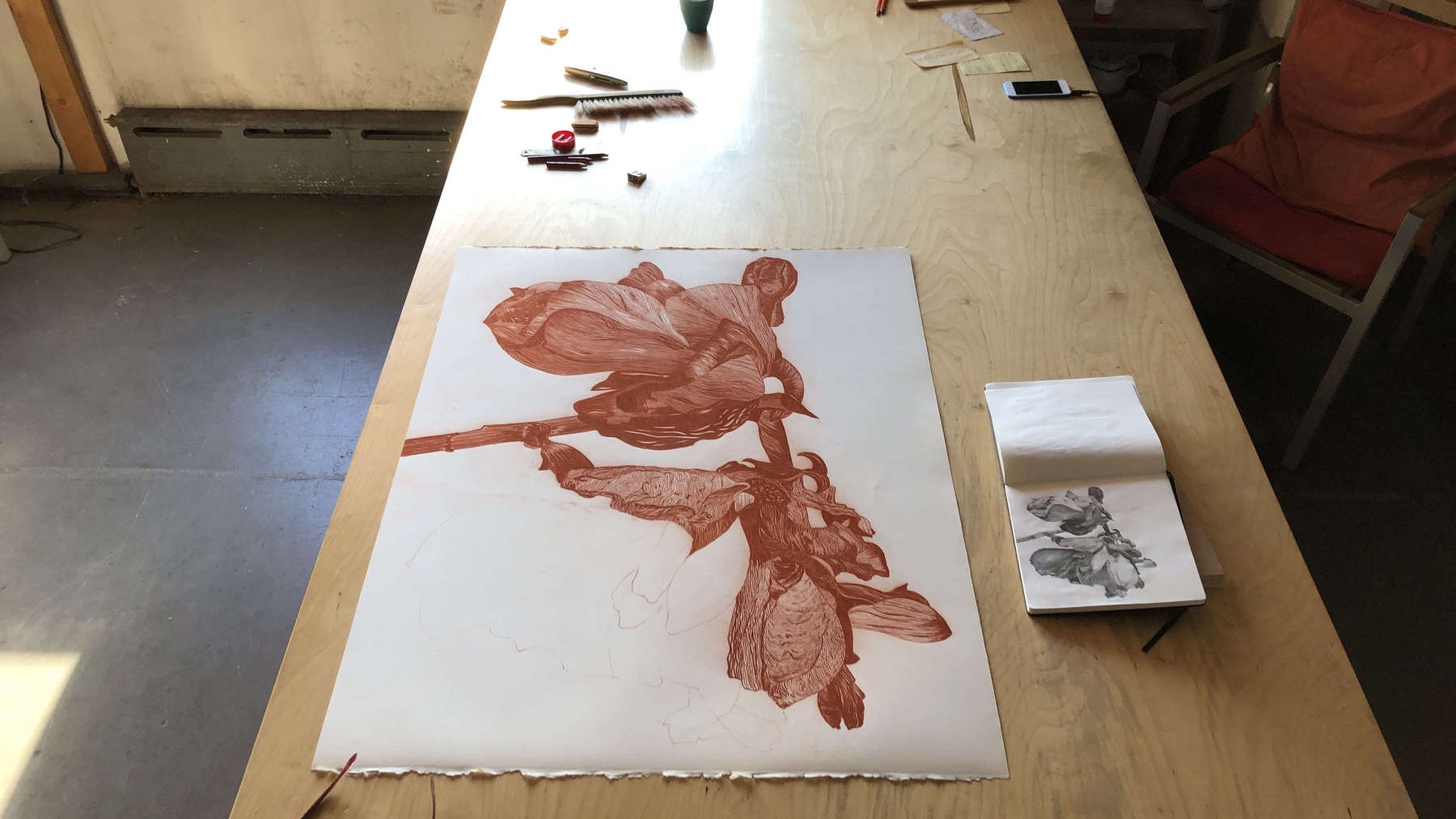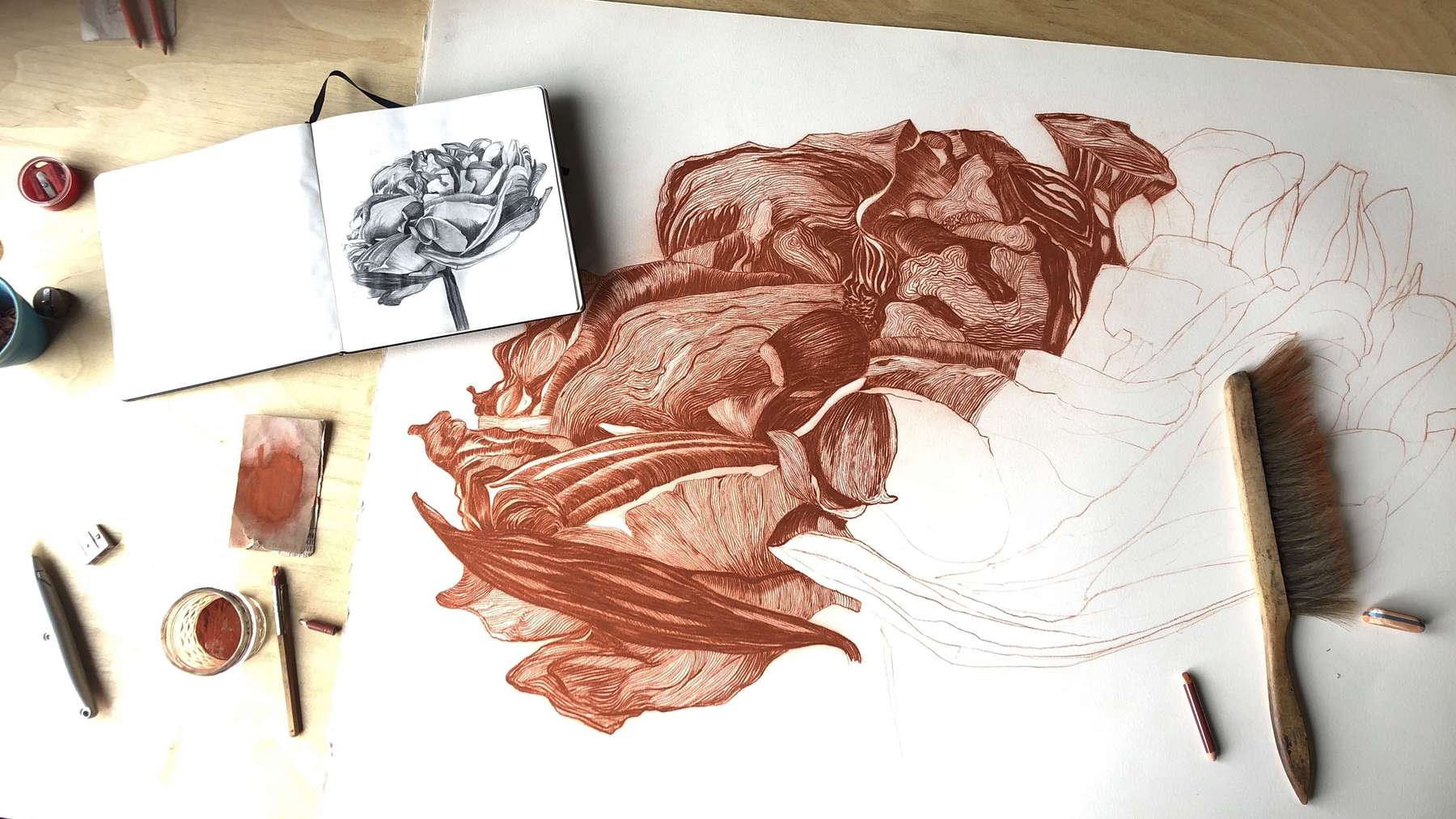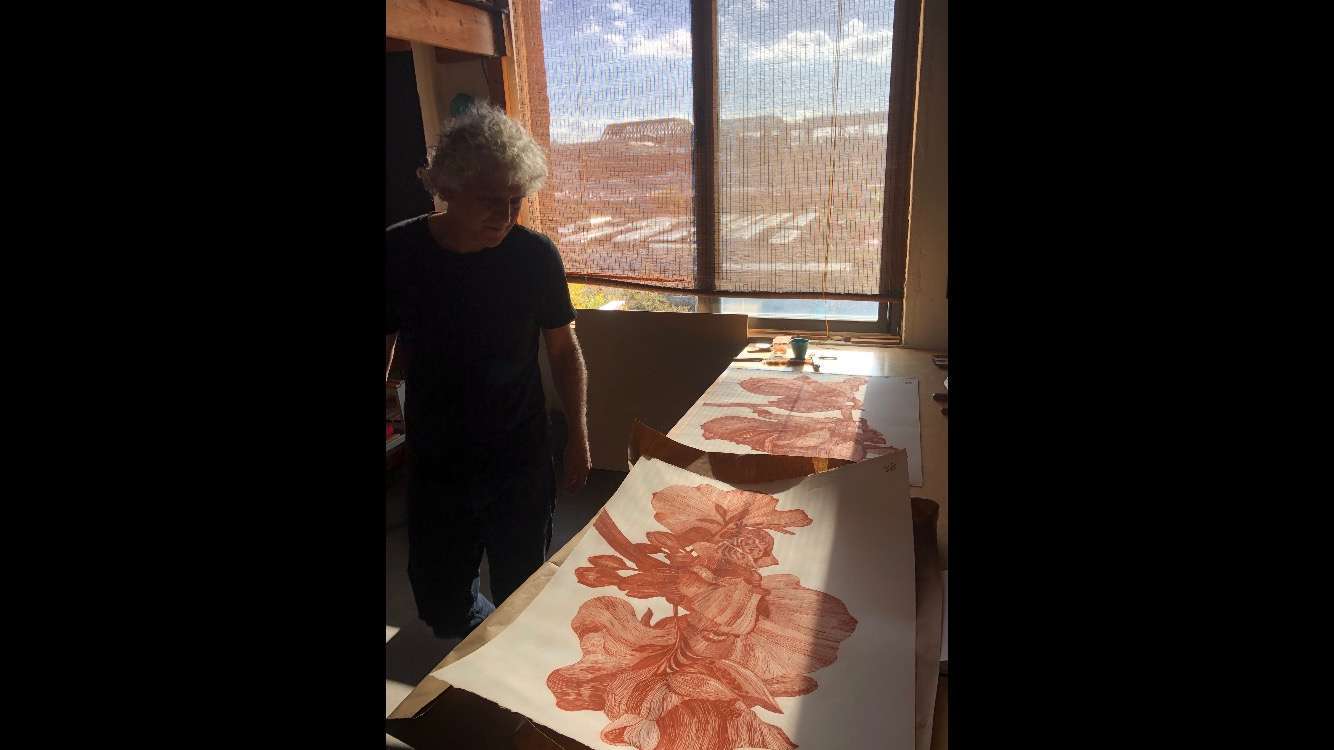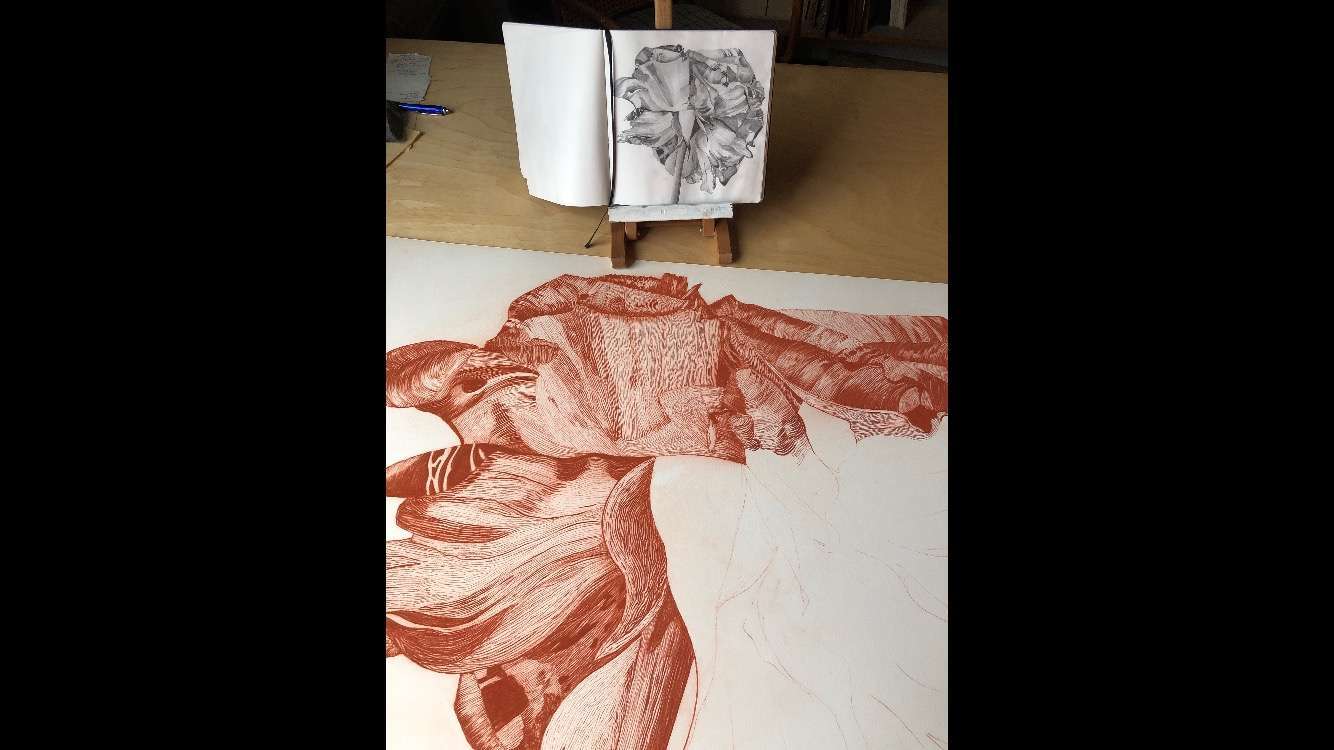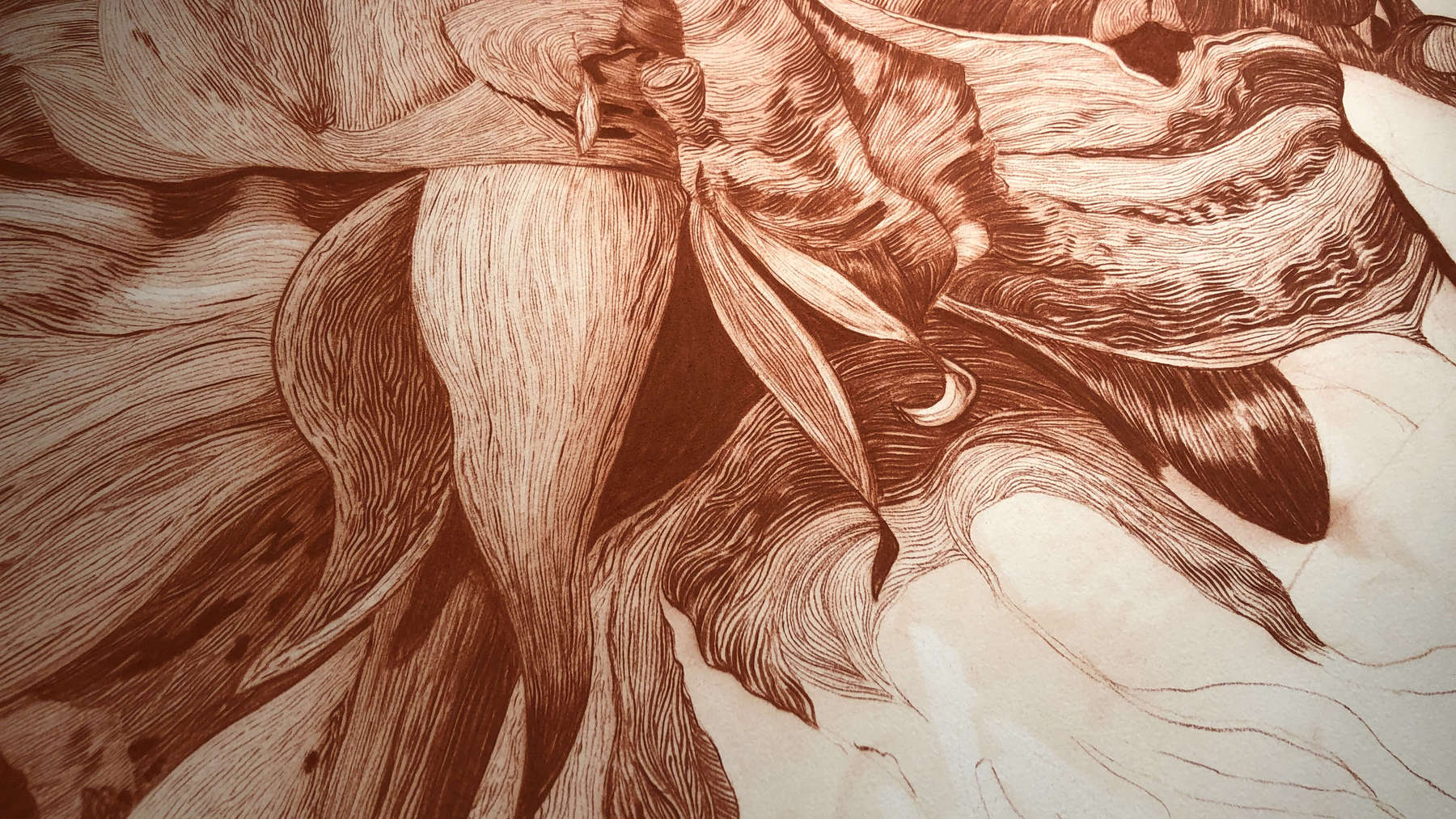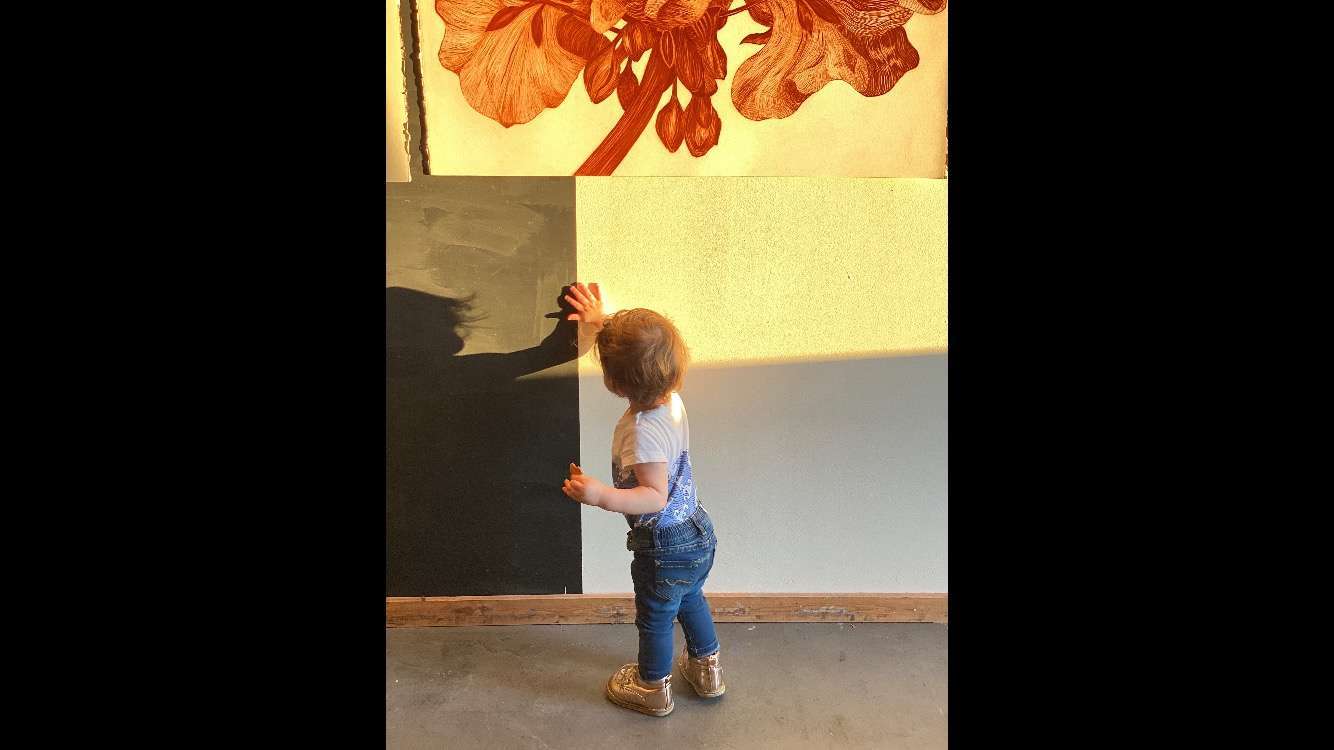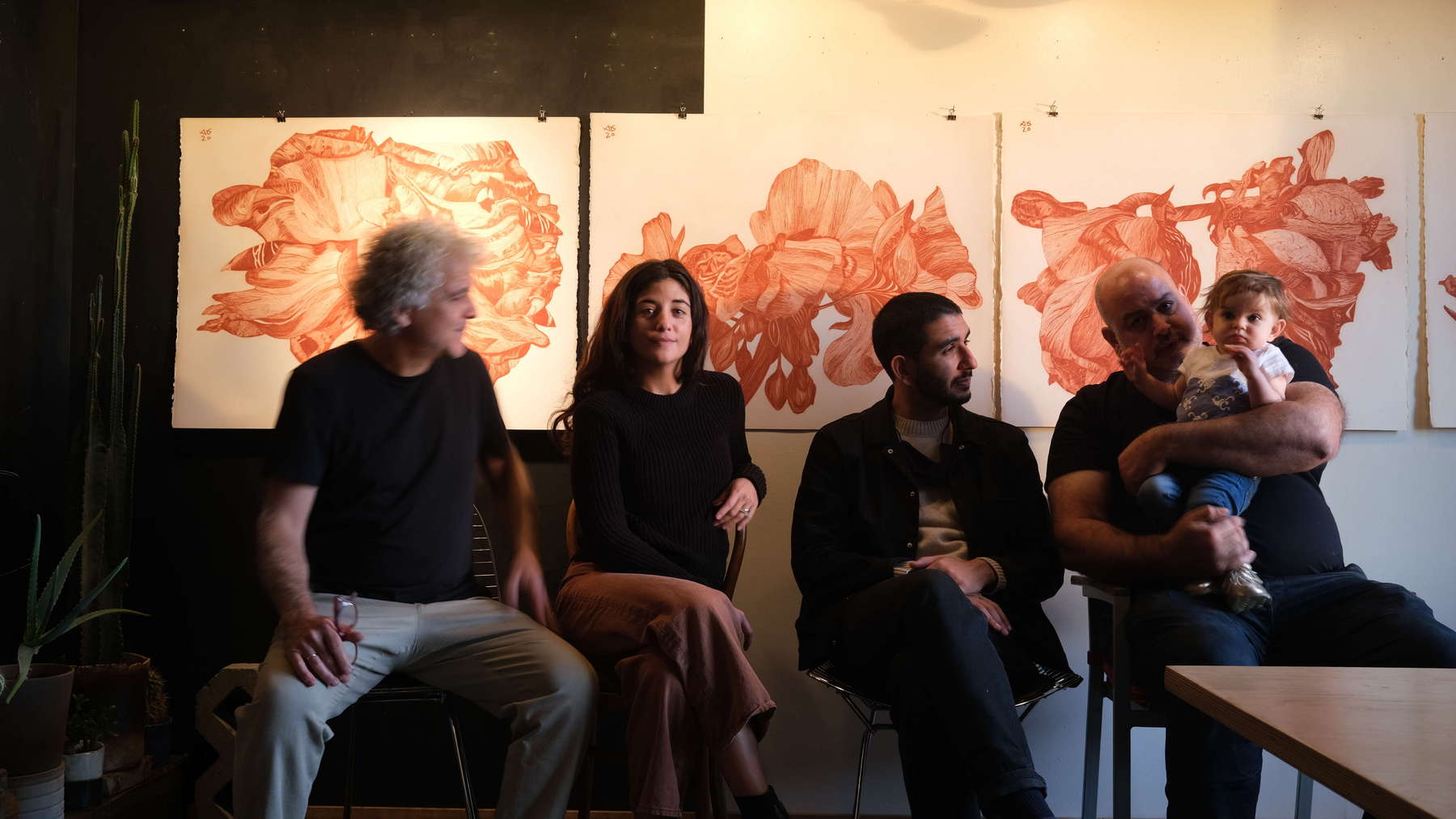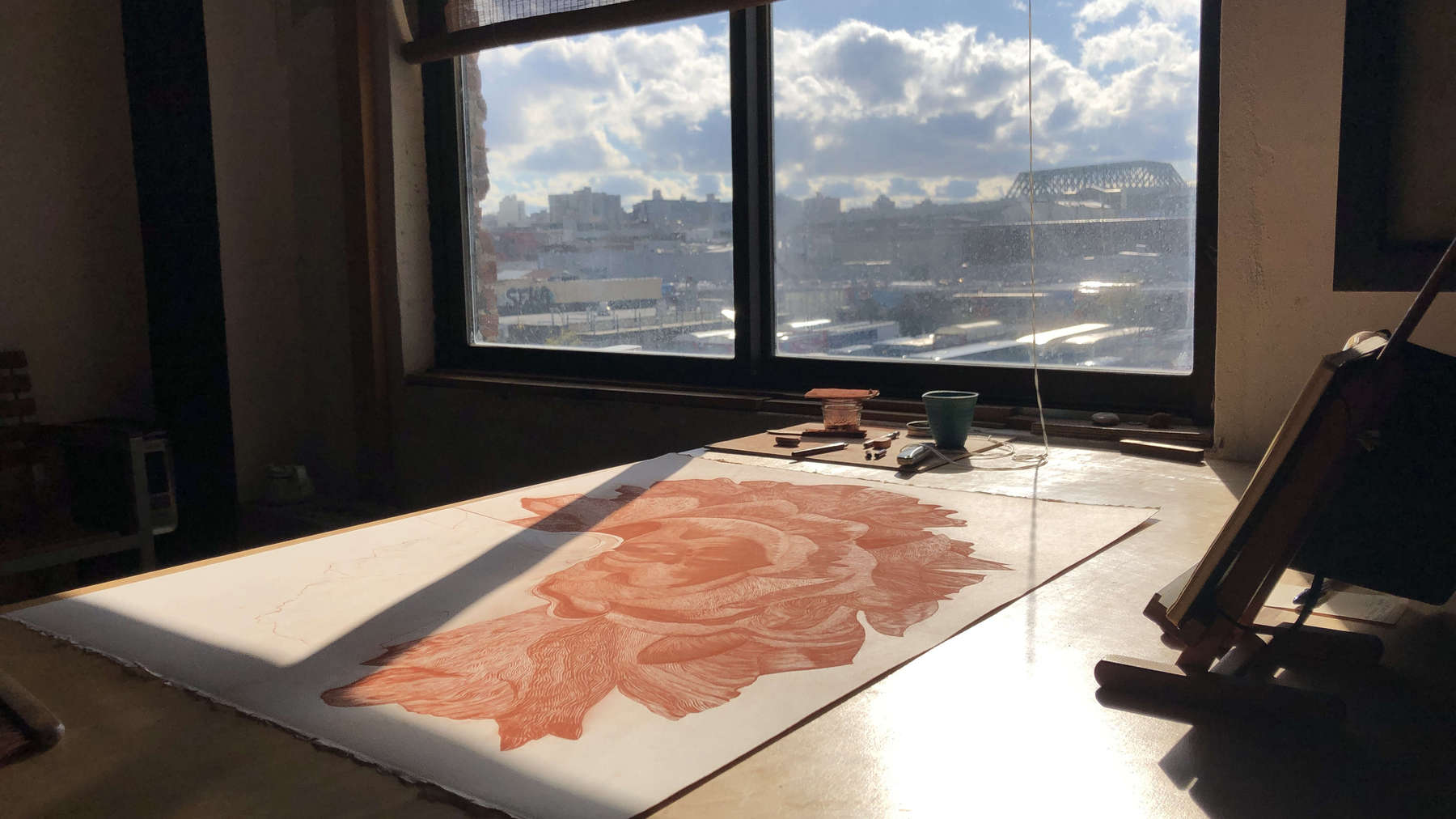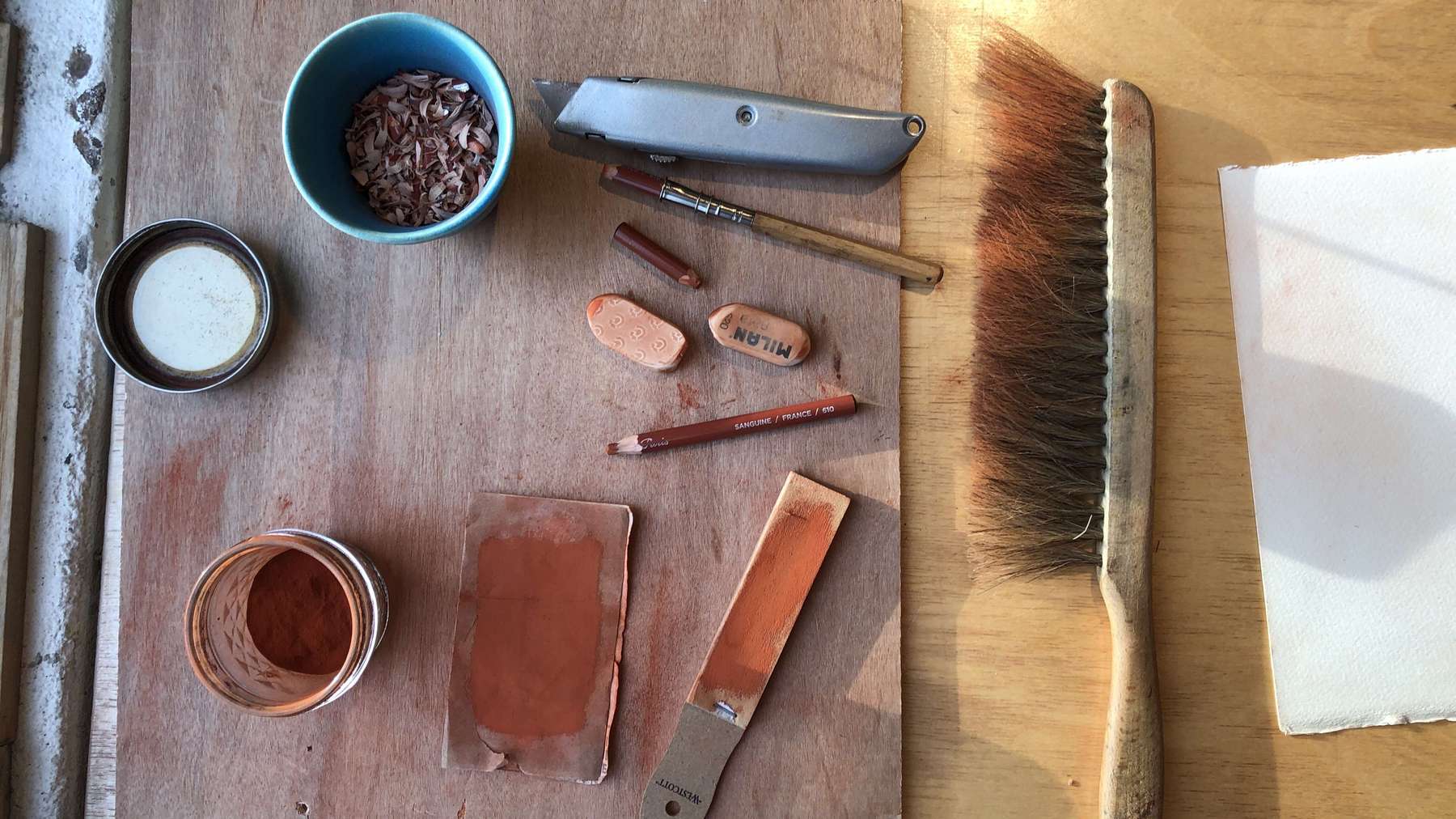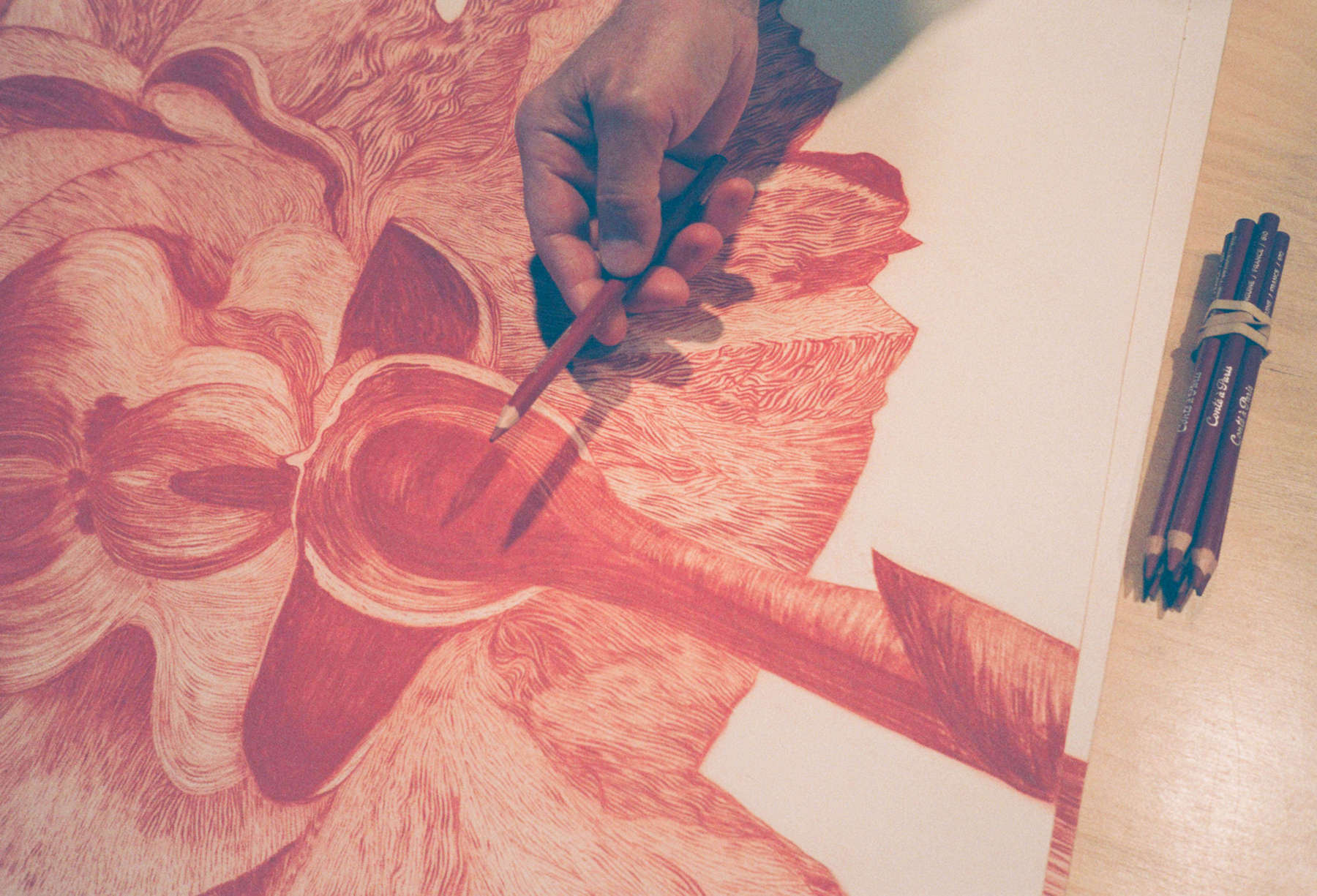 photo by Andrés Altamirano. http://www.andresaltamirano.com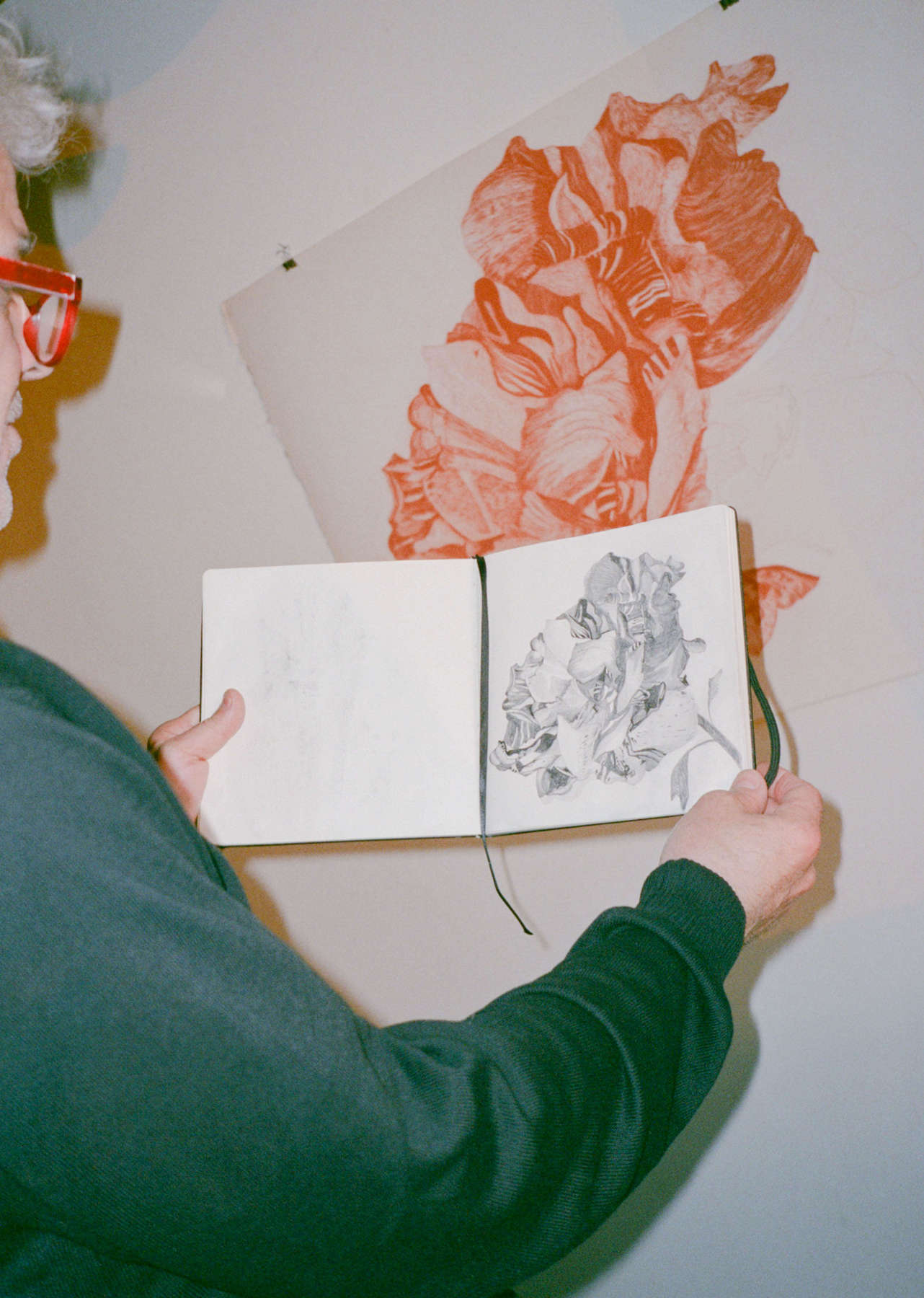 photo by Andrés Altamirano. http://www.andresaltamirano.com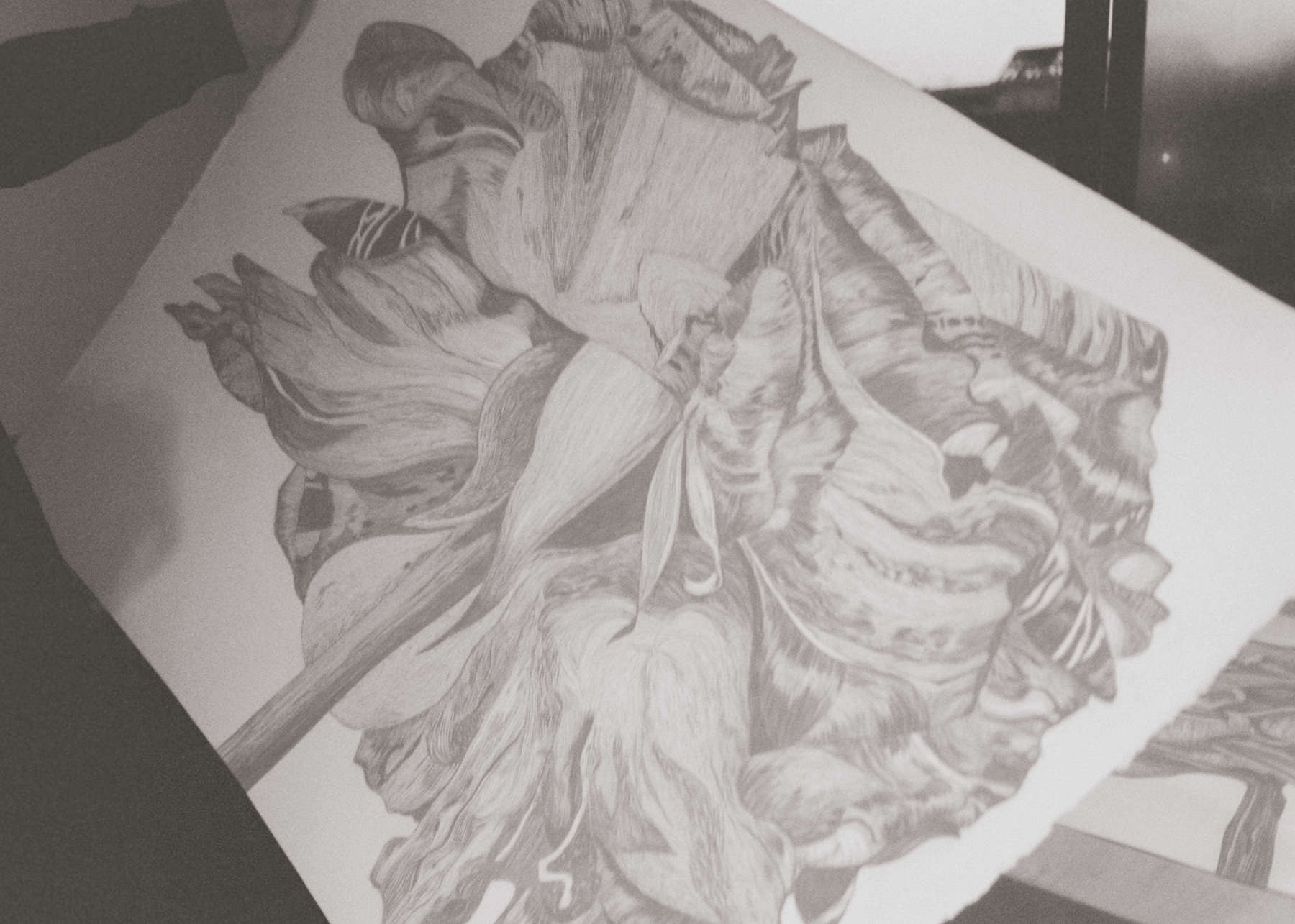 photo by Andrés Altamirano. http://www.andresaltamirano.com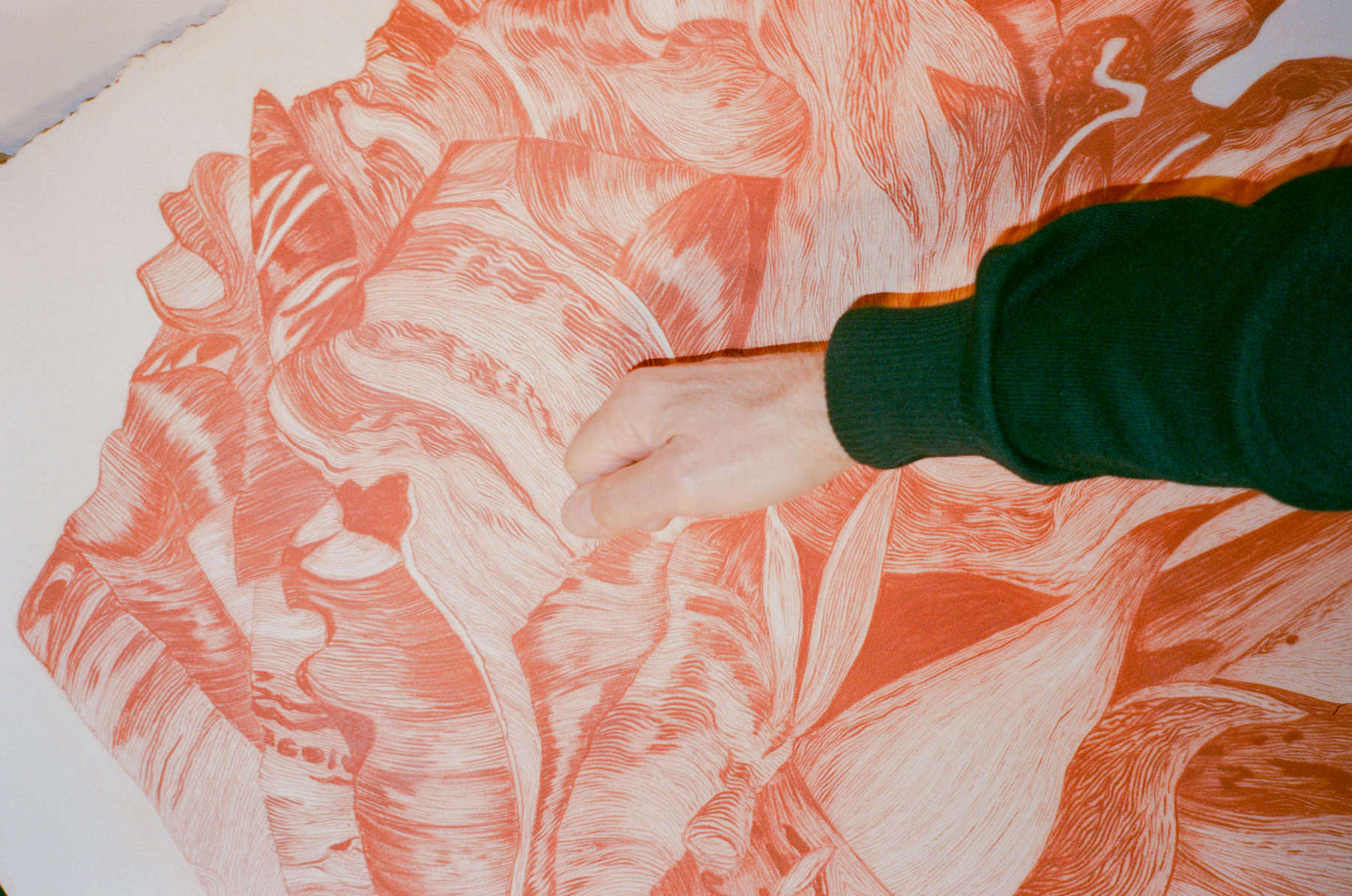 photo by Andrés Altamirano. http://www.andresaltamirano.com